How to overcome stage fright? I think my own struggle can teach us all some lessons.
In another place I mentioned how my dad was very (a bit too much) keen on hearing me sing, and how his encouragement achieved the opposite effect.
What I did not tell was the great extent to which my dad's mild (?) obsession with my voice made me shy away from singing. So today I'm coming out with the whole deal. And let's not restrict ourselves to daddy issues, lest mommy feels neglected.
My voice, my mom and me
I was 7 when my mom told me to sing in front of my grandpa. I would still sing at home sometimes at that point, but I was starting to get self-conscious. People notice, I'm on display. So I declined performing at my mom's request.
About 4 years later I was singing to myself in my room, then looked over my shoulder and realized my mom had been listening. That did it. Dad was already long excluded from hearing me sing – now mom would be punished as well. When I was 12 I started attending a professional high school of the arts, in the music department, as a pianist. I joined the school choir and the comments at home immediately began coming: why don't you sing solo? You have such a lovely voice. Well, dear dad, you just made sure it will NEVER happen.
So now the entire school was blocked. I did not apply for solos, not even once. When we got 30 minutes lessons twice a month, I dropped out after the first: a friend told me she heard me through the door. Someone might tell my parents they heard me sing and they might ask: why can't we hear you as well? No way I'm getting caught.As long as there were people listening, I would not do it.
But I wanted to sing. Badly. My dad was right. And my mom did nothing wrong, of course. All they wanted was to encourage me doing the most natural thing in the world – to sing – and also pointed out that I did it well. I ended up singing in empty bus stations, where I knew I was alone. Later still, in the army, I felt freer to sing: they were military reserve, and they would go home after a couple of weeks.
Love can't be denied
These days I sing in front of dozens or hundreds of people, I thrive on stage. I film videos of me singing as a birthday present for my parents – how did I get there?
It all started when I moved out of my parents' house. I had the idea to take singing lessons, just for the kicks. My parents wouldn't have to know. I had a phone number of a teacher, but of course, I did not call her. It took my Good friend and roommate at the time to actually YELL at me to call her. After the third lesson I found myself running to the bus station – very unusual for me at the time to be so sportive. An extreme feeling went through me, but it was strangely familiar. When did I feel like that before? Right, it was when I kissed the guy I had been in love with for months. So, this is love? I suppose it was, all those years, and now it was finally mine.
I knew I was destined to keep singing. My parents would find out – but there was no going back. I needed to get over my anxieties.
Overcoming stage fright phase 1: torture yourself
I started forcing myself to deal with embarrassing or scary situations.
First in the lesson: I did everything I was asked, without question. For my teacher those were everyday things, for me they were unthinkable. For example when my teacher put me in front of a mirror for the first time. I thought it would kill me. But I did it. When the next student would come earlier I would have to sing in front of him or her, which was paralyzing at first. But I did it anyway. I would practice in front of my roommate – same one who yelled at me and pissed me off. I would stop every few seconds, taking off layers of clothes (it was getting hot in there), blab away, try to make excuses to take breaks. Still a long way to go, huh?
My coming out
Then one day it was time for my coming out. I went to my parents' house. Of course I didn't simply show up and started singing – are you insane? This was a big deal, I had to sit them down and break it  to them that I started to take voice lessons. I built it up for a long minute, making them raise all kinds of speculations, assuming the worst: I am gay, I am becoming an orthodox Jew, I am terminally ill…. Imagine their relief: voice lessons! That's fine – we don't care! Exactly the reaction I was looking for.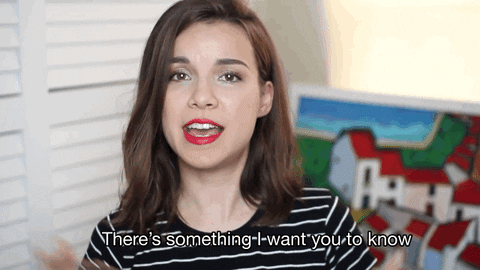 I was ready to practice at home, against my own will. When you must – you must. I would close myself in my room, turn off the lights and pretend there is no one in the house. They were in the house, listening, and I was painfully aware of it, but I sang, starting from 5-10 minute sessions, until I got used to it.
Phase 2: get an audience
Because I wasn't advanced enough to get a degree in classical singing, which is what I wanted, I decided to enroll into the Jerusalem Music Academy as a composer. What was I thinking? I am not a composer, but I wanted to start my higher education, and it seemed like a good idea at the time.
I made it clear right away to my voice teacher that I would be auditioning for the vocal department at the end of the year. She said I wasn't ready. But it was to sing or nothing at all for me at the academy. If I couldn't study voice I knew I'd have to leave music studies altogether.During my year as a composer, I joined the choir and got friendly with all the singers. I went to the weekly concerts of the department to see them perform, and learned a lot. Towards the time of my audition I invited them all to a run through I did and asked for feedback. By that time I felt a bit better about letting people hear me. And even if I didn't, I could not afford not singing. So how I felt could not be a factor. I worked hard all year and was admitted. As a freshman at the vocal department I was at least able to sing in front of different teachers and colleagues. Going on stage was something I was able to bring myself to do, not so much functioning as a performer, just yet. I could go on those department concerts whenever I wanted, and I did my best every time, getting better and better at controlling my voice (and knees).
Seeing the smiley, friendly faces in the audience definitely helped. I would concentrate on how someone is listening and watching, on that communication. Maybe they feel how I feel about his piece of music, about this dramatic moment. Sometimes I would make it my mission to find the people in the audience not so involved, and direct the singing to them, trying to get their attention (inspiration I got from my teacher at the time, Robin Weisel-Capsouto). That made it more like a game, or an experiment. Much easier to deal with. I sang in group classes, and looked for any possibility to step in front of people and sing. I had to get a grip somehow. And eventually be able to sing anything in front of anyone. I took an opportunity to audition for an alto solo part (no, I am not an alto, but I had no high notes at the time, so I worked with what I had), and got it.
Phase 3: do the – what used to be -unthinkable
A short solo, only 5 minutes, but it was with the academy choir and orchestra. So I invited my family to the concert. That was 2 years after I decided I will sing no matter what. And what a closure it was! About a year after that I was finally able to control what I did vocally on stage. I could play around with my expression, with the timing, dynamics and interpretation.
Of course I still had a very long way to go – but don't we all, always. Artists are doomed to never be satisfied with their own art – a major exaggeration, but kinda true – we live for the few, rare moments of grace, when everything falls into place. The more times I stepped on stage, or sang in front of people, the more control I had in my performances and the more moments of grace I got.
Phase 4: accept your stage fright
If you are asking yourself whether you will ever get over your stage fright, let me tell you: you will and you won't.
The fact that I flourish and enjoy myself on stage now, does not mean I don't have the fright. I still feel the nerves, my heart racing, the panting. But I know these sensations better now, and I know the show will be fine. I know what to focus on, which is the experience I will give my audience.
I go up there all shaky, but in a good way – because I learned it is NOT about NOT having the stage fright. It's about having it, and singing with it, letting it take you to a surprising place, maybe a better place as a performer. Now, this is easier said than done. In the earlier years my body wanted to shut down in the surge of adrenaline. My body before the show said: don't go up there, go home. Even though it was the solo I wanted so much and was so excited when I got it. Even though I am literally living my dream. Why would I want to go home??
It took me a while to learn that this rush of adrenaline is simply an oddity: my body is not used to it, so it interpreted it as a bad thing. But I realized I can interpret these nerves differently: I'm human, and I am nervous before going on stage, it's understandable. And it's good, because I'm about to do what I worked so hard for!
Stage fright workshop
This might be something for you, if this articles interests you. Besides 'ordinary' singing lessons, I offer help with stage fright to my students. I give public speakers and performers a workshop Overcome Stage fright.
When you don't try to run away from the fright, control it and feel less nervous, you accept: this is my moment and that's what I want and therefore I feel like this. Cool.A colleague of mine, Abigail Amster, whom I interviewed not long ago, talks about adrenaline before a show and how she dealt with it:
"About 3 years ago I had to sing on television. Before going on I felt my heart racing and I started to sweat. I went outside for a bit, I couldn't even move, I felt so frozen. So I just started to role my hands a little, open the chest a little, then I already found myself raising my arms, doing dancing exercises, slowly the breath started to open and I was coming back to myself. All that time I thought to myself: How can I do good for others."
Abigail is also a yoga teacher. She learned to embrace her humanity, including having stress and nerves. She discovered that once you stop fighting the fright, it fades away somewhat, after you 'let it live in your body' for a while.
Why was I tortured? Why are we all?
Who knows where my excessive stage fright came from? I had developed a habit of not putting the attention on myself: being the good girl, the good student, the one who makes no trouble. Maybe that had something to do with it. Once I sang I got the spotlight, especially as I child, and for some reason I did not want it. So I hid myself, thereby getting even more attention whenever someone accidentally heard me usher anything close to singing. The irony.Never mind, I got over it. It was a phobia that ran deep, but even so it was treatable. If I went past it – anyone can. Moral lesson: If you want to sing badly enough, it is only a matter of time.
Also, don't let anyone tell you what you are ready or not ready for. Sort of wish I took my own advice later on, but that's a whole other story…
Read more
I recently did a reaction video where I judged my own singing (see the article Singing on stage: 5 psychological principles) It shows that nerves and negative thoughts can still have an effect on me, but I can deal with them while I'm on stage.
What's your experience with stage fright?
I'm curious to hear what you dealt with or are still dealing with. Don't feel shy, leave it in the comments 🙂