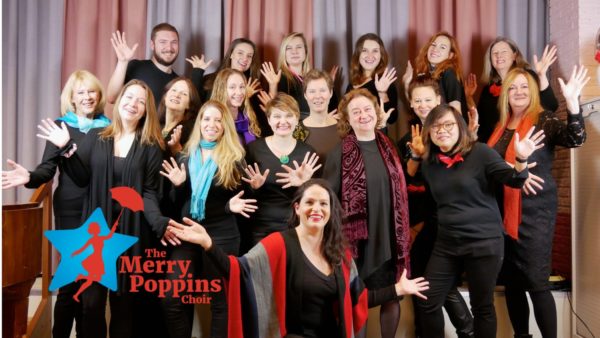 NEW! The Merry Poppins are branching to Utrecht!
In May 2022 a new choir will open in Utrecht, you can sign up to it already, and you'll be invited for a free tryout. 
The name of our choir is of course a wink to my favorite musical movie – I must have watched it at least a dozen times. It keeps inspiring my love for singing.
Repertoire
We sing (mostly new) arrangements of key songs of classic musicals such as Hair, Grease, Fiddler on the Roof, and – as you can hear in the recording below – Mary Poppins. We performed this song – Sister Suffragette – at Café De Pianist, in June 2019.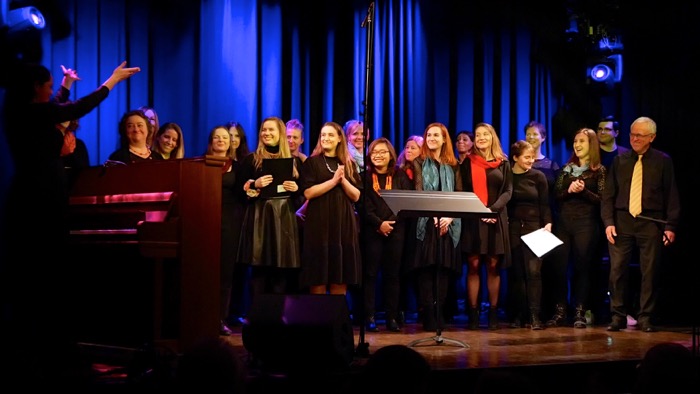 Concerts
We perform at least twice a year, including an end-of-the-year concert every June.
In november 2018 we performed in Café Belcampo, at a brunch concert with another choir: Hebrew Groove. In June 2019, we performed at Café De Pianist in Amsterdam (see recording below).
In January 2020, we performed at the renowned Paradiso Korendagen.
Our bad-ass work ethic
We are an amateur choir but dedicated to making this a great vocal ensemble. You don't have to have a lot of singing experience to join. As long as you are dedicated to learn and put in the effort. It's hard work but a lot of fun! As Mary Poppins sang: 'In every job that must be done / there is an element of fun / You find the fun / and SNAP the job's a game'
The perks of being a Poppin
Why is being a Merry Poppin the best thing ever? Being a part of The Merry Poppins will give you the opportunity to have fun singing in a group AND become a better singer.
Weekly rehearsals with a group of dedicated singers from all over the world. You learn about vocal technique and blending in a group.
Performing in two concerts a year (at least)
65% discount on one private singing lesson , which will improve you as a (choir) singer. On more lessons, you get a 10% discount.
New arrangements of classic musical songs that I wrote especially for this choir (such as in the video below: I recorded and dubbed my own voice for soprano, mezzo and alto)
50% discount on all my paid online courses
Rehearsals 2021/2022: We're back!
Rehearsals are on Saturdays, time 11 am, at T85, Tugelaweg 85, Amsterdam.
Schedule second semester 2022
February 5th: canceled

February 12th: 8 pm
February 19th: 11am
February 26th: 11am
March 5th: 11am
March 12th: 11am
March 19th: 11am
March 26th: 11am
April 2nd: 11am
April 9th: 11am
April 16th: 11am
April 23rd: 8pm
April 30th: NO REHEARSAL
May 7th: NO REHEARSAL
weekly until end of June – 11am
*Changes may apply
Membership
We will rehearse until end of June (unless we'l have additional performances coming up after that). The fee for participating is EUR57. You can go here to pay Untill the end of June  .
Cost covers my fee as arranger/director/organizer and costs for promotion, social media promotion of concerts and member acquisition, fees for rehearsal and/or concert space.