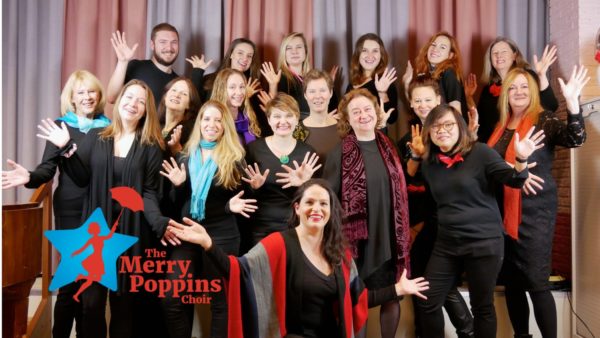 ***Next free tryouts – February 2022***
The name of our women's choir in Amsterdam is of course a wink to my favorite musical movie – I must have watched it at least a dozen times. It keeps inspiring my love for singing.
Repertoire
We sing (mostly new) arrangements of key songs of classic musicals such as Hair, Grease, Fiddler on the Roof, and – as you can hear in the recording below – Mary Poppins. We performed this song – Sister Suffragette – at Café De Pianist, in June 2019.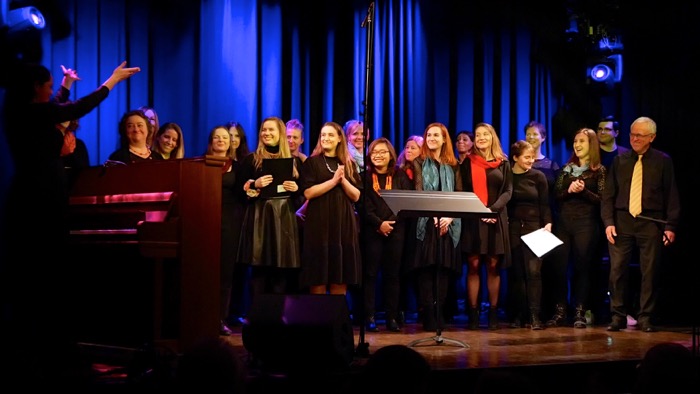 Concerts
We perform at least twice a year, including an end-of-the-year concert every June.
In november 2018 we performed in Café Belcampo, at a brunch concert with another choir: Hebrew Groove. In June 2019, we performed at Café De Pianist in Amsterdam (see recording below).
In January 2020, we performed at the renowned Paradiso Korendagen.
Our bad-ass work ethic
We are an amateur choir but dedicated to making this a great vocal ensemble. You don't have to have a lot of singing experience to join. As long as you are dedicated to learn and put in the effort. It's hard work but a lot of fun! As Mary Poppins sang: 'In every job that must be done / there is an element of fun / You find the fun / and SNAP the job's a game'
The perks of being a Poppin
Why is being a Merry Poppin the best thing ever? Being a part of The Merry Poppins will give you the opportunity to have fun singing in a group AND become a better singer.
Weekly rehearsals with a group of dedicated singers from all over the world. You learn about vocal technique and blending in a group.
Performing in two concerts a year (at least)
65% discount on one private singing lesson (€20 instead of €62 (ex VAT)), which will improve you as a (choir) singer. On more lessons, you get a 10% discount.
New arrangements of classic musical songs that I wrote especially for this choir (such as in the video below: I recorded and dubbed my own voice for soprano, mezzo and alto)
50% discount on all my paid online courses
Rehearsals 2021/2022: We're back!
Rehearsals are on Saturdays, time 11 am, at T85, Tugelaweg 85, Amsterdam.
Schedule first semester 2021/22
September 11th: 8pm

September 18th: NO REHEARSAL

September 25th: NO REHEARSAL

October 2nd: NO REHEARSAL

October 9th: 11 am

October 16th: 11 am

October 23d: 11 am

October 30th: 11 am

November 6th: 8 pm

November 13th: 8 pm

November 20th: 8 pm

November 27th: 11 am

December 4th: 11 am

December 11th: 11 am

December 18th: 11am

December 25th: NO REHEARSAL

January 1st: NO REHEARSAL

January 8th: 11am

January 15th: 11am

January 22nd: 11am

January 29th: 11am
Membership 2021/22
The membership fee is for a whole season, for we will aim to get some results by the end concert. The payment will be 360 euros (including 21% VAT) for the season (September-end of June). Per semester is also an option: it's 190 euros. It covers my fee as arranger/director/organiser and costs for promotion, social media promotion of concerts and member acquisition, fees for rehearsal and/or concert space.
NB: if you enter the year at a later stage, you get a discount that is proportionate.