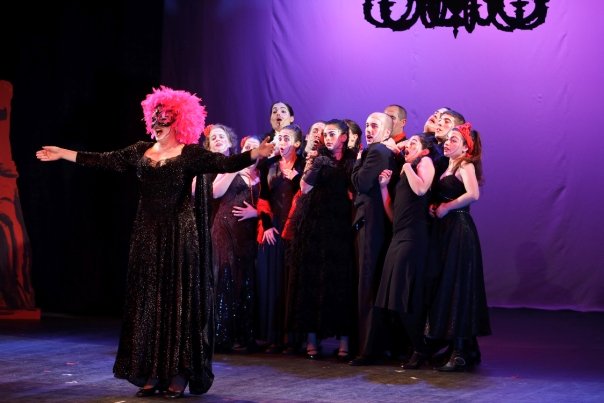 Does the thought alone of stepping in front of a crowd make you want to flee the country? If it does, you probably want to continue reading. Or if:
Your body is failing you when the moment has come to face an audience (panting, sweating, heart racing).
No matter how long passes or how well you are prepared for the job, the fear and insecurity won't go away.
You would give anything to not have to go out there and perform in front of people.
At the same time, you would love to be able to deliver your message, or your art.
Why this stupid fear his harmful
The real problem is not the sweating and trembling. The real problem is the consequence of avoiding public performances. Because you frustrate your own career opportunities and the opportunity to contribute something to other people. You have something to share, don't let some primitive and mostly irrational fear* get the best of you.
What's in the workshop?
Learning more about the phenomenon of stage fright: examples of performers, myself included, who struggled and dealt with it. How did they get over it?
Exploring and gradually changing your thoughts about what it means to perform: making the cognitive switch.
Mini performances in front of your trusted group members: baby steps and then bigger steps.
Practicing with questions from the audience about your topic of expertise: a crucial factor to strengthen your baseline confidence
Voice technique, breathing and posture: how to feel secure that your voice won't fail you in times of heightened stress
Making a work plan: how you proceed after the workshop.
Material you can take home, including homework.
In general: playtime, practice time, the freedom to fumble, tremble and stumble, and laugh about it together.
"Thanks for the very inspiring workshop last Thursday, Linor! I really had a fun time. It was great to be in a small group in a safe environment where we all learnt from each other. Your tips are very useful and I am sure to use them in coming public speaking occasions."
"Linor's stage fright workshop gave me a new awareness of how I am facing the audience. Furthermore, it provided me with handy techniques and insights. They opened a door in me to a new curiosity and the desire to venture further…"
For whom?
Even though my background is that of a singer, I don't only coach singers. In fact, most of the people who attend the workshop are not singers. Some examples of their background:
A lawyer who wanted to speak more freely at congresses

An organiser of meetup events 🙂

An IT manager who wants to feel freer to speak in meetings with colleagues

A gifted engineer who was too scared to present data to her boss – she prepared the presentation, but let a colleague do it.
"I wanted to read a poem at a good friend's wedding. This was a big deal for me, as I've struggled with stage fright for years. I decided to do Linor's stage fright workshop and I'm so glad I did it. What struck me was that Linor comes from a place of understanding, I really felt that. What also struck me was the comradery of the group of such different people, it was great teamwork.

A few days before the wedding, I got a call from Linor with advice and encouragement, which really helped. At the wedding, my knees were shaking, but the audience might not even have noticed. In any case, what counts is that I did it. That I read the poem and contributed to my friend's wedding, which I wanted so dearly.

For everyone in a similar position, I would highly recommend Linor's workshop or stage fright course. For me, it was an important step on the way of my ambition to assist others to help themselves – and then others."
"When I was still in college, I could find ways to avoid it: standing in front of a group. But as soon as I started my job as a therapist, I realized that would no longer be an option. In our team of colleagues, we were supposed to take turns giving a presentation. Hearing this, my anxiety spiked and I knew: I have to get rid of my stage fright as soon as possible.

When I came to Linor's stage fright workshop that first evening, my heart was racing. But I was determined to not back off. I thought: in the end, how bad can it be? It's just one evening among people who experience similar things as I do.

What helped me was that the exercises started relatively easy and only gradually increased in difficulty.

Another thing that soothed me pretty fast was my realization that one comes across much less nervous than one actually feels. We established that in a little experiment. Everone experienced it.

The final exercise of the workshop evening was a short, quickly prepared presentation. Incredibly, I could do it. Something I would never have guessed at the beginning of the evening. That's when it struck me: if I can make such progress in a short period of time – imagine what else is possible? That was such a liberating feeling.

After the workshop I also participated in the course. ​
I want to create as many positive presentation experiences to counterbalance the old negative ones!
​​
I feel the benefits. I lead therapy groups with a colleague, where I notice that I am much more relaxed these days. I can focus better and give more attention to my clients."